Marco Valeri Quartet - Alexanderplatz
Rome - 18 March 2013 - Alexanderplatz
Marco Valeri Quartet | The Apple
Via Ostia, 9 - Rome. For tickets and info www.alexanderplatz.it | tel. 06.39742171 (after 6 pm)
Max Ionata Winner of JAZZIT AWARDS 2012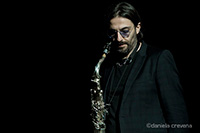 Max Ionata was voted as best tenor sax player of the year by JAZZIT readers. The year 2012 has been highly rewarding for Max Ionata, ending with an important recognition, and characterised by intense activity as leader; resulting in the release of Two for Duke with Dado Moroni for Jando Music, and as guest in Seven by Dino and Franco Piana, Sergio Cammariere's latest release and Introducing Letizia Gambi with Chick Corea, Lenny White, Ron Carter e Gil Goldtstein (both by Jando Music). His concerts feature internationally renowned artists such as Dado Moroni, Alvin Queen, Joe Locke, Reuben Rogers, Clarence Penn, Billy Hart and many others.
Marco Valeri Quartet - the apple
February 2013
Marco Valeri Quartet | The Apple
Roman drummer Marco Valeri released his debut album "The Apple" in February, opting for a piano-less band for his first jazz recording as a leader.
Produced by Jando Music and Via Veneto Jazz
Distributed by