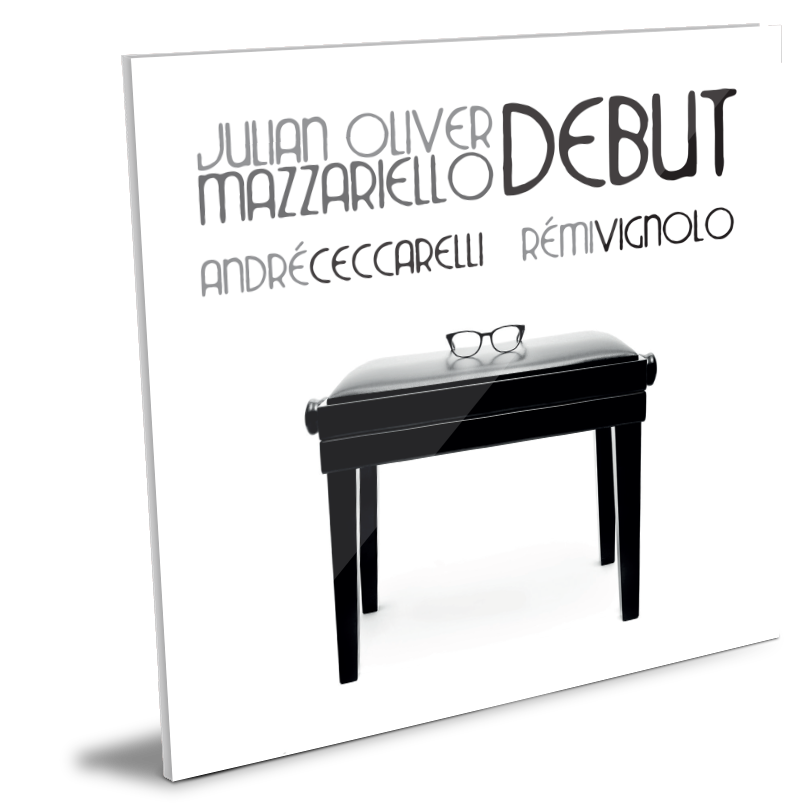 JULIAN OLIVER MAZZARIELLO

Debut
Julian Oliver Mazzariello piano
André Ceccarelli drums
Rémi Vignolo doublebass
How many albums do you have of Julian Oliver Mazzariello? Think about it. It'll probably be difficult for you to answer. Perhaps you won't be able to recall the precise number, but there's definitely at least one in your music collection. What's more, that elegant touch of his on the piano is unmistakeable - instantly recognisable by merely listening to the first few notes, not to mention his remarkable Anglo- Neapolitan name.
But the truth is: no, you haven't got any of Julian's albums. That's because, although Julian lent his art to many musicians - colleagues of his, he remained undecided on whether to step into the role of band leader.

Julian has teamed up for outstanding duo albums with Fabrizio Bosso (with whom he shared several musical experiences), with Enzo Pietropaoli's Yatra band (always for Jando Music/Via Veneto Jazz) and played with Lucio Dalla, Stefano Di Battista, Maria Pia de Vito, Edoardo De Crescenzo and Fabio Concato, but "Dèbut" – set for release in autumn 2019 for Jando Music and Via Veneto Jazz – is his first solo performance. So, finally we have the chance and opportunity to listen to Mazzariello in all his creative flair and compositional dynamism: groove, swing, refined technique; along a path of differing styles which he approaches with heightened awareness. Whether they be ballads ("Monk in Paris", "J's Ballad") or groovier songs ("Funky chunks") or soft blues ("Modal blues"), the pianist masterfully guides the exceptional trio, formed by André Ceccarelli on drums and Rémy Vignolo on doublebass. Seven original compositions and two standards of the song: "Accarezzame" by Pino Calvi (already interpreted by Roberto Murolo, Peppino Di Capri, Renzo Arbore and many others) and "Que reste-t-il de nos amours?" Charles Trenet's masterpiece, make up this brilliant album.
Now you have one less ambiguity and one more valuable album. Enjoy!