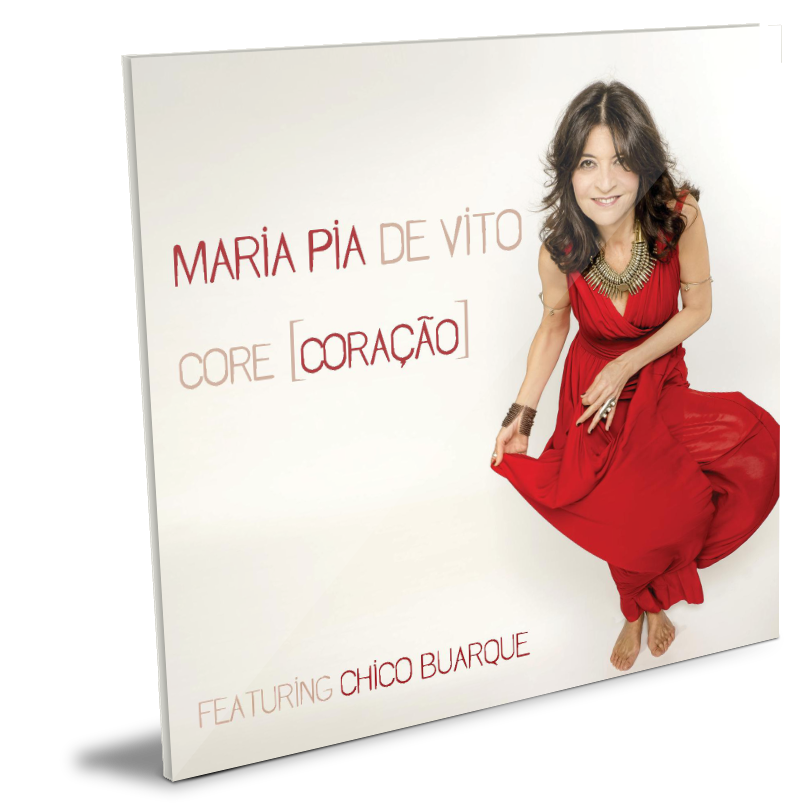 Maria Pia De Vito
featuring Chico Buarque

Core[coraçao]
The new album of Maria Pia De Vito "Core/coraçao", recorded between Rome and Paris, will be released on May 5th by Jando Music, in collaboration with Via Veneto Jazz, and officially presented at the concert on the same day at Teatro Studio "Gianni Borgna" in the Auditorium Parco della Musica, Rome and on May 7th at the Blue Note in Milan.
The outcome of much deliberation and effort, this most recent album which widely embraces transcultural harmonies, has surfaced as one of the most listened-to. Its title clearly points to the origin of inspiration: the heart – sparked by the encounters with the Brazilian guitarist and composer Guinga and with Chico Buarque, singer-songwriter and poet, guest artist in two of the album's tracks "Todo sentimento" and "O Meu Guri" (the latter a duet in Neapolitan).
An accurate translation work from Portuguese to Neapolitan, played side by side with the authors, particularly with Chico, aiming to preserve the beauty, poetry and musicality of the original lyrics in Neapolitan, a remarkable musical instrument that is lyrical, rhythmic and visionary at the same time.

Maria Pia De Vita is a renowned Italian singer-songwriter. Her career is full of important collaborations and musical encounters, to name a few: John Taylor, Ralph Towner, Chico Buarque, Guinga, Rita Marcotulli, Ernst Rejiseger, Enrico Rava, Enrico Pieranunzi, Norma Winstone, Steve Swallow, Gianluigi Trovesi, Danilo Rea, Enzo Pietropaoli, Paolo Fresu, Paolo Damiani, Cameron Brown, Ramamani Ramanujan, David Linx, Diederik Wissels, Area, Joe Zawinul, Michael Brecker, Peter Erskine, Kenny Wheeler, Miroslav Vitous, Nguyen-Le, Uri Caine, Dave Liebman, Billy Hart, Eliot Ziegmund, Steve Turre, Maria Joao, Monica Salmaso, Art Ensemble of Chicago.