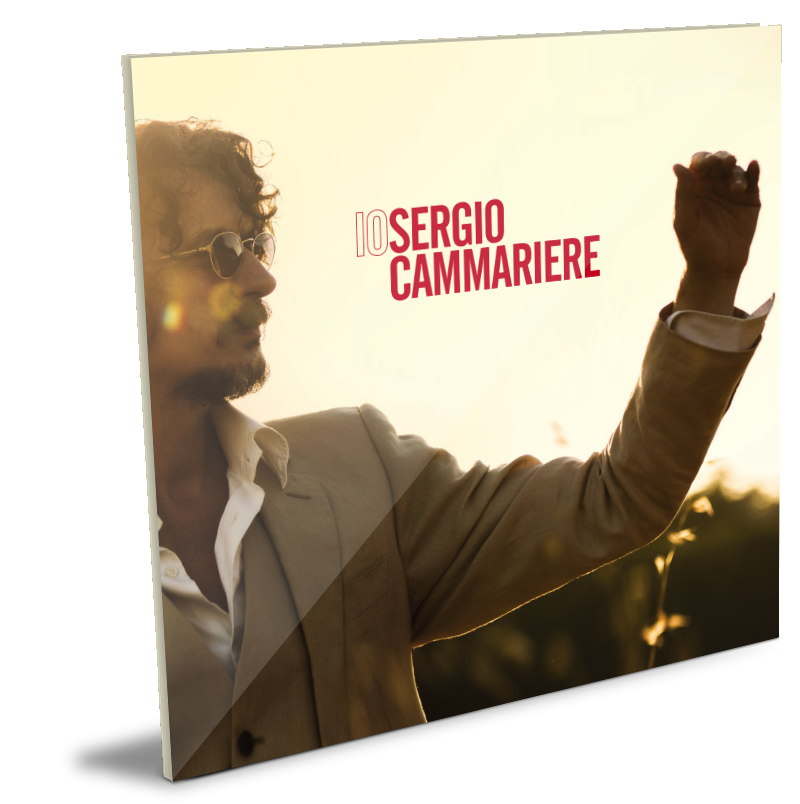 A NEW INTRIGUING SUCCESS AND TWO ELECTRIFYING DUETS WITH GINO PAOLI AND CHIARA CIVELLO
After two years since his last album Sergio Cammariere announces his new cd "IO" (English: Me), set for release on 25 November. The title leaves no room for doubt regarding its intention: the 12 tracks compress the entire musical world of the renowned Italian pianist and songwriter. Cammariere's mastery in seamlessly blending cuts of Latin and South American rhythms with a raw jazz heart - all in perfect balance and equilibrium - displays his own fresh, daring vision of contemporary jazz.
In this latest work of his, Cammariere reintroduces elements that have had a solid influence in his music, such as the lyrics written to most of his songs by his close friend Roberto Kunstler and the extraordinary alchemy binding him with his traveling companions - musicians that accompany him in every concert and album. Adding to this are two new enthralling duets which are the outcome of an incessantly evolving musical research. There was a time when Sergio Cammariere defined himself as "a small songwriter when compared to Gino Paoli", today, however, they form a duo in "Cyranò" where the poetry in Gino Paoli's verses and the composing skills of Cammariere give life to a song of extraordinary intensity. "Con o senza te" was conceived thanks to the collaboration with Chiara Civello, among the most exciting voices in contemporary jazz. Their musical paths helplessly converge as hues of jazz and bossa nova, touching a variety of textures, eventually merge in currents of captivating rhythms.


Sergio Cammariere feat Chiara Civello - Con te o senza te
Sergio Cammariere feat Gino Paoli - Cyrano'
Cammariere puts forward some of his most acclaimed successes painting them with new hues: the strong pace and the charm of "Tempo perduto" open the track list, and immediately gives way to the melancholic "Via da questo mare", a gentler version thanks to the introduction of the piano and soft drums. The enchanting sound of notes echoes the intense emotion in the voice with "Tutto quello che un uomo", the song marking the first participation in Sanremo (where it ranked third place in 2003, receiving the Critics Award and "Best Musical Composition"), in a perfect harmonious balance that underlines its emotional intensity. The piano reveals the melody in "Dalla pace del mare lontano" paving the way for a fast-paced jazz excursion enriched with Latin accents. And again, "L'amore non si spiega", with its sentimental and profound lyrics where music passes the border into poetry and, to conclude the chapter of memoires, is the lively yet instrospective and satirical song "Cantautore piccolino".
In "IO" there is also space for new emotions, dissolved within unpublished tracks such as: "Chi sei", with its expressive elegance and soft atmosphere, "Ti penserò", where piano solo and vocals give life to a song pulsing with warmth and passion. The rousing rhythms of "La giusta cosa" shift a shade closer to contemporary pop, while the artist's sensibility and love for his homeland pervade every note in the piano solo "Sila."
IO has been recorded at both Casa del Jazz and the Auditorium Parco della Musica in Rome. Alongside Cammariere, are a group of acclaimed musicians: Fabrizio Bosso, Luca Bulgarelli, Amedeo Ariano, Bruno Marcozzi, Roberto Taufic, Paulo La Rosa, Ousmani Diaz, Marcello Surace and Francesco Puglisi. The album is produced by Giandomenico Ciaramella for Jando Music, Sergio Cammariere for Grandeangelo SRL and Aldo Mercurio, in coproduction with Parco della Musica Records and distributed by Egea.
The artistic production and arrangements of the album were undertaken by Sergio Cammariere while those of the orchestra and wind instruments by M° Paolo Silvestri, excluding the songs. "Tutto quello che un uomo" and "L'amore non si spiega" were arranged by Maestro Peppe Vessicchio.

TRACKLIST: 1.TEMPO PERDUTO, 2. VIA DA QUESTO MARE, 3. TUTTO QUELLO CHE UN UOMO, 4. CYRANO' feat. Gino Paoli, 5. DALLA PACE DEL MARE LONTANO, 6. L'AMORE NON SI SPIEGA, 7. CHI SEI, 8. CON TE O SENZA TE feat. Chiara Civello, 9. TI PENSERO', 10. LA GIUSTA COSA, 11. SILA, 12. CANTAUTORE PICCOLINO