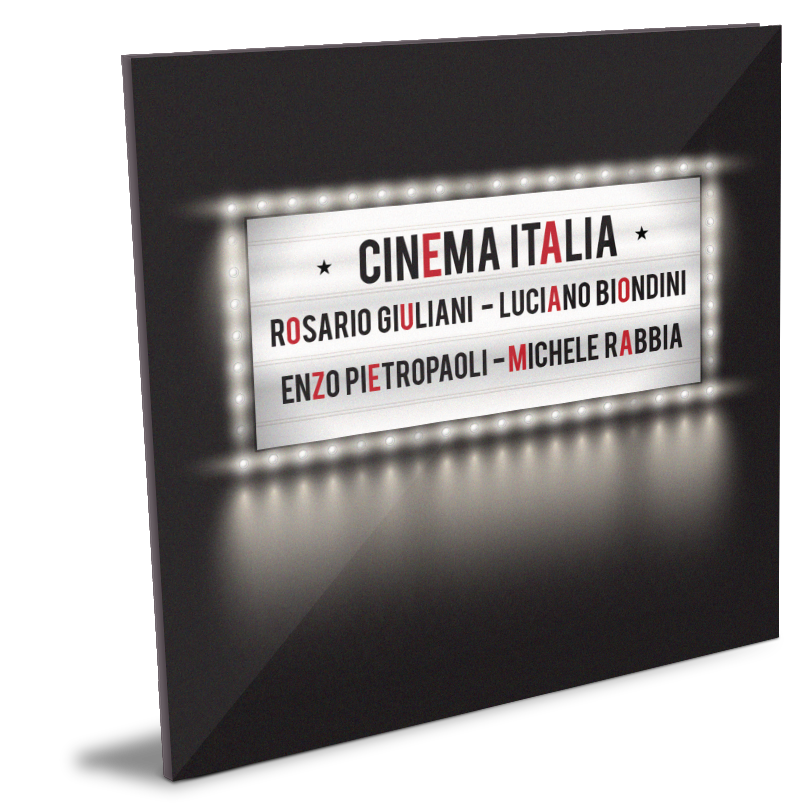 CINEMA ITALIA
Rosario Giuliani | alto & soprano sax
Luciano Biondini | accordion
Enzo Pietropaoli | doublebass
Michele Rabbia | drums, percussions, electronics
What would movies be like without music? Music conveys all that which images cannot. The importance of a soundtrack can sometimes even transcend that of images and stories, and great directors often build the entire structure of their masterpiece around a score - the themes in this album are evidence of this. There have been numerous masterpieces in Italian cinema that have influenced filmmakers around the world and we continue to distinguish ourselves in this art.
This project is a tribute to the great Italian cinema which has contributed to raising global awareness of our country and that has maintained a tradition of excellence. Equally distinct is the cast of musicians in this album: Rosario Giuliani on sax, Luciano Biondini on the accordion, Enzo Pietropaoli on the doublebass and Michele Rabbia on drums, percussions and electronics.
A contemporary music point of view which never betrays the melodies of these unforgettable themes yet presents them with a new force and vitality, demonstrating their immortality and constantly surprising the listener with the fresh innovativeness of the proposed versions.

Unforgettable scores for unforgettable movies, among which are 8 e mezzo (8½), C'era una volta in America (Once Upon a Time in America) and Nuovo Cinema Paradiso (Cinema Paradiso) by creative geniuses Nino Rota and Ennio Morricone. Along with these potent emotional scores and iconic composers are two original scores by Rosario Giuliani and Luciano Biondini (Black and White and What is There What is Not) that reveal once again the profound narrative capacity of these two exceptional artists.