Naples - 12 May 2013 - Teatro Trianon Letizia Gambi live feat. Lenny White
Letizia Gambi (voice), Lenny White (drums), Paolo Brioschi (piano), Dario Rosciglione (bass), Fabio Zeppetella (guitar), Daniele di Bonaventura (bandoneon), Max Ionata (sax), Giuseppe Tortora (cello)
Teatro Trianon Reservations 0812258285 or Events Office 3391702782
Rome - 11 April 2013 - Casa del Jazz Enzo Pietropaoli Quartet | Yatra Vol. 2
Casa del Jazz, viale di Porta Ardeatina, 55 - Rome
at 9 pm
Tickets and reservations 06.704731 www.casajazz.it
Antonio Faraò al Blue Note di Milano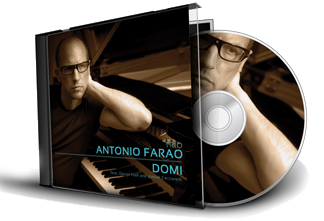 10 febbraio 2013
Antonio Faraò al Blue Note di Milano
Ancora un sold out per Antonio Faraò nel tempio del jazz il Blue Note di Milano: lo scorso 10 febbraio Antonio Faraò (con Martin Gjakonovski al contrabbasso e Vladimir Kostadinovic alla batteria) ha incantato il pubblico con il suo repertorio di brani originali tra i quali quelli del suo ultimo cd Domi (dedicato al primo figlio) pubblicato dalla Jando Music e Cristal Records. Antonio Faraò sarà ai primi di marzo a new york a registrare un nuovo album con la Jando Music e Cristal Record con musicisti americani d'eccezione sui quali per il momento manteniamo un pò di suspense.....
Atina Jazz Winter
Atina Jazz Winter - 4-5 January 2013
Enzo Pietropaoli Quartet and Marco Valeri Quartet New Releases - National Preview

Two dates in January not to be missed! In Atina, on Jan 4, Marco Valeri Quartet will be presenting its CD The Apple while on Jan 5 Enzo Pietropaoli's quartet present its long-awaited second album Yatra Vol. 2
Roma - Kind of Trio - Music Inn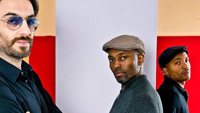 Roma - 13 dicembre 2012 - Music Inn
Kind of trio
Max Ionata (sax) | Clarence Penn (batteria) | Reuben Rogers (contrabbasso)
Il 13 dicembre 2012 ore 22.00 presso il MUSIC INN di Roma in Largo dei Fiorentini 9.
Napoli - Presentazione live del cd Introducing Letizia Gambi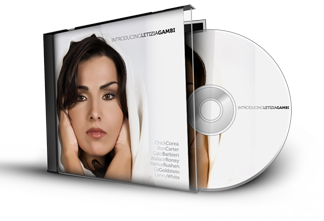 21 novembre 2012
Napoli - Fnac - Presentazione live del cd
Introducing Letizia Gambi
Il 21 novembre 2012 alla Fnac di Napoli Via Luca Giordano 59 alle ore 18 (ingresso libero) presentazione live del cd Introducing Letizia Gambi.
Leggi tutto...
Rome - 8 November 2012 - Casa del Jazz Fabrizio Sferra Quartet | UNTITLED #28
Untitled # 28 is Fabrizio Sferra's latest project as bandleader of a group of young musicians already established on the international scene: Giovanni Guidi on piano, Dan Kinzelman on sax and Joe Rehmer on doublebass. Despite their young age, these jazz musicians already boast collaborations with famous musical groups and signed a number of recording agreements with national and international labels.
Casa del Jazz, viale di Porta Ardeatina, 55 - Roma
Info and tickets 06.704731
www.casajazz.it
Mille Bolle Blu
A Journey Through the Best Years of Our Music - Featuring Nicky Nicolai, Stefano Di Battista, Max Paiella and the Big Band. Directed by Elisabetta Rizzo. Conceived by Gino Castaldo.
A Jando Music and AB Management co-production.
Jando Music at EJE 2012
Cagliari - 7-9 September 2012 - European Jazz Expo 2012
Once again, Jando Music will be present at the EJE in Cagliari.; featuring Asì on Sept 7 and 8, Max Ionata and Dado Moroni on Sept 8 , and Enzo Pietropaoli Quartet on Sept 9.
For info: www.jazzinsardegna.it